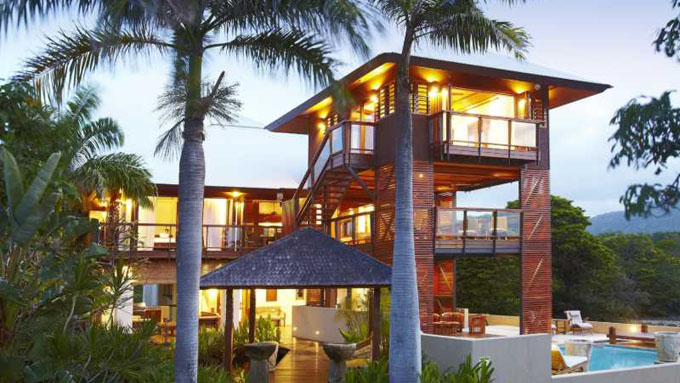 Lotus House is an exclusive romantic getaway in the tropics. This exclusive retreat is all about beach life, rejuvenation and the tonic of the ocean air.
The ultimate in luxury - this house will tantalise your senses. Private balconies and terraces with panoramic views across Horseshoe Bay and across to the Great Barrier Reef. A honeymoon, romantic liaison or family holiday haven - soak up the sunshine, lay under the moon and stars, enjoy balmy breezes from the Coral Sea through the palm fringed beach. This retreat depicts a world of seclusion and indulgence.
Lotus House is located on Horseshoe Bay Beach, with an absolute beachfront position, a wander down through the dunes that front the property, will take you onto this sheltered bay, lined by palms and fallen coconuts.
Lotus House features exotic tropical gardens and an 12 metre private pool, with constant temperature control. The house flows down onto the beach with no road access across the front of the property, for uninterrupted views.
Ocean views are breathtaking from the luxurious bedrooms, balconies, pool, and the many indoor and outdoor living areas. Bi-fold doors open seamlessly to the dawning of a new day and the perfect place to spot dolphins, turtles and manta rays frolicking in the ocean. Arrive with no need to leave during your stay.
Featuring three bedrooms each with ensuite, this house is suitable for up to 6 Adults.
There is only one Lotus House